Summer in the Ötztal
Alpine pastures instead of palm trees
Holidays that give you mountains!

Two-hundred-and-fifty peaks of over three-thousand metres form the grand backdrop of a summer getaway full of superlatives, adventures, and relaxation, with wild waters and tranquil lakes. With the new 'Ötztal Premium Card', active holidaymakers have exactly the right tool in their hands to experience the diverse highlights of the valley individually, and all is inclusive.

Summit-seekers beware:
The Alps have a challenging new haute route – the Ötztal Trek – with 22 legs and 15 variants, with 30,000 metres of ascent and 400 kilometres of distance. It's not just experienced alpine mountaineers or trained climbers that can heed the call of Ötztal's mountains, leisurely walkers or mountain bikers can also experience their own personal highlights in the Ötztal: 1,600 kilometres of marked hiking trails and 860 kilometres of biking trails stretch across the ridgeline, slopes and valley of the Ötztal.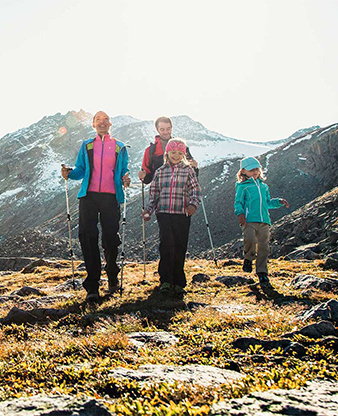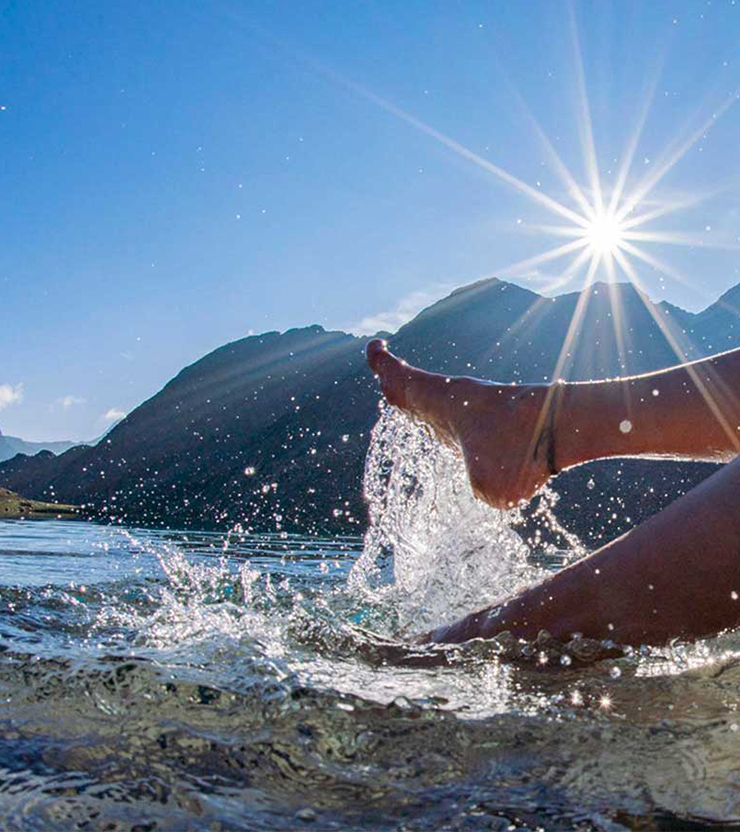 A landscape full of colour and contrast
The Tyrol's longest alpine valley lays at the feet of its guests the mountain summer in all its diversity – all 67 kilometres between the Ötztal motorway exit and the end of the valley containing the largest glacier area in the Eastern Alps. The eight Ötztal villages of Haiming, Sautens, Oetz, Umhausen, Längenfeld, Sölden, Vent and Obergurgl-Hochgurgl all have their very own flair – they have a sporty, chic, sophisticated, rurally sedate, quiet, and dreamy feel.

Tyrol's largest waterfall,
the Stuibenfall, plunges 159 metres into the depths near Umhausen. A walk along the waterfall path or scrambling along the fixed rope route along the platforms and under torrent's spray brings the fresh feel of summer. Adventurous white-water sports enthusiasts can experience the full drama of wild mountain waters on the Ötztaler Ache, in the Imst Gorge, or on the Inn River with popular sports such as rafting or canyoning, kayaking or canoeing.

The healing power of water
comes into play in the 'Aqua Dome' – the thermal spa in Längenfeld with fun and adventure pools for the whole family. You can simply swim or go fishing at the
Piburger See near Oetz – a true natural gem and, incidentally, one of the warmest bathing lakes in Tyrol.